Credit: Wild & Wolf
Choosing your office space is usually a no-brainer and the smallest room in the house 99% of the time becomes the chosen space. There are however some really important factors when choosing a workspace, which should not be over looked. The home office is a place for productivity and creativity to thrive and if you are going to be using this space often, you need to get it right to feel the full benefits. Whether you have a dedicated room for your home office or an area in a lounge or dining room, here are our top tips to creating the perfect home office.
Use space efficiently
Credit: Black by Design
If you are lucky enough to have a dedicated room for your office, try if possible to choose an area with good natural light, access to plenty of power points and if possible a good view. The same goes if you have your office in a lounge or dining room, try to avoid dark and dingy corners. If this is not possible to avoid, invest in some quality home office lighting to illuminate the workspace and reduce eyestrain. To accompany the lighting, decorate this area with light, pale colours to help brighten up the space.
Invest in a good supporting chair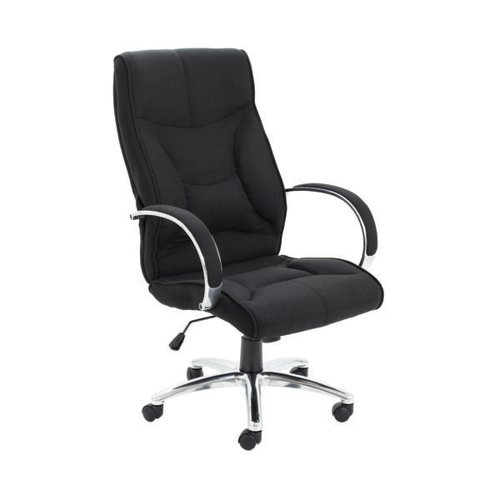 If you have ever worked in an office, we are sure you have come across the safety briefing of how to sit at a desk properly. As silly as it might seem, this is an extremely important issue when working at a desk. Also as many of us now spend over 8 hours a day sat down, getting a good supporting chair is very high on the checklist. Being comfortable will ultimately make you more productive and will allow you to work longer. But what makes a good office chair?
The main requirements for a good office chair are….
The backrest should be adjustable and follow the natural 'S' shape of the spine
Arm rests should be close to the body and allow shoulders to relax
Arm height should be adjustable and match the height of the desk
Feet should rest flat on the floor
Circulation in thighs should not be restricted
Fit for intended purpose, enabling you to move freely and carry out tasks comfortably and efficiently
Want to know the good news? Well long gone are the times when office chairs were dull and boring, you can now get your hands on some really stylish and modern equipment. Brands now understand the importance of having safe to use and supportive office chairs, without compromising on style.
For example, you can find a wide range of office chairs on the Office Monster website here: officemonster.co.uk
The perfect desk
Credit: Distinctify
Is there really much to consider when choosing a desk? Yes our friends, there is. Your home office desk needs to accommodate many things, from a computer, space to work, storage space and most importantly…. room for your coffee mug! Though many glossy mags may show beautiful images of minimal home offices, with slim and sleek desks, in the real world a normal person has lots of 'stuff' that needs to be put somewhere. Here are a few points to consider….
Work style habits and uses
Consider what the desk will be mostly used for?
Do you need access to certain tools regularly?
Are you messy and will need a larger surface area of the desk to be productive?
Ergonomics and Space
Your desk should provide clearance for your legs
At least 3.5 feet of space behind the desk, for you to easily manoeuvre in and out
Desktop equipment and materials should be placed at a comfortable and easily reachable height
Look and style
Desk surface – choose a surface which will be durable enough to support your activities
Is the desk sturdy and secure to support your workflow?
How big is the space and what style will fit with the environment?
Do I need drawers in my desk?
Choose stimulating colours
Credit: Pixers
Colour can emit so many emotions in human beings, without most of us really even noticing. For centuries designers have used colour to manipulate spaces, so that they can benefit the inhabitants fully. For example, adding red to a kitchen or restaurant will make you feel hungry or adding green to a space can make you feel calm. Every colour has positive and negative effects on every individual person; the way a colour is perceived is a very personal thing.
When choosing the colour palette for your home office, think about what colours inspire you and make you feel energized. Remember the office is a space for focused activity, not a place to have a snooze fest. It is advised to stick to colours on the lighter spectrum, which will help the natural light to bounce throughout the space. Some advise keeping the scheme plain and neutral, but if bold, geometric patterns are your thing and get you working, then why not? Just be careful that you won't feel too distracted with so much going on in the space. For a sleek and ultra modern look, using crisp white and black tones is a great way to create a productive and encouraging environment, whilst displaying some killer on-trend style. Whatever colour palette you choose though, just keep in mind what the space is for. Productivity, creativity and for achieving great things!
Organised storage
Credit: Grace & Glory
To keep your mindset clear and focused organised storage options in your home office is a must have. Whether you have chosen to incorporate it in with your desk or have separate cabinets, being organised and clutter free will help you to stay on track with your work. If you have the space, invest in some quirky wall shelves, which can be used for storage and also for styling purposes. To keep your colour theme running throughout, paint the shelves in the same tones, then arrange your work into colourful or patterned box files, labelled of course and easy to find. Your storage options can be an upcycled old industrial cabinet, or some recycled crates hung on the wall. This can be your time to get creative with your storage space, making the area completely exclusive to your home.
Notice board
Credit: Oakdene Designs at Not on the Highstreet
A notice board is a handy addition, which will keep you up to date with your schedule. A notice board can be small and kept in a drawer or can be a statement piece to be hung on a wall. To keep your home office looking super stylish, it is advised to choose a notice board that reflects the trend and colour scheme of the room. If the industrial trend is your bag, choose a wire grid board that can be mounted on the wall. If your home office has a touch of Scandinavian chic, choose cork to cover on entire wall complete with funky pushpins and accessories.
Add plants
Credit: Red Candy
As we are surrounded by so much technology in today's world, going green in your workspace has many health benefits. From scientific studies, it has been found that plants benefit office dwellers both physically and mentally, leading to more productivity and creativity in the workplace.
Other benefits are…
Reduces Stress
Cleaner air to breathe
Reduces noise
Better environment to work in
Reduces dry skin by 20%
Oh wonderful nature! With so many benefits it is so tempting to fill the entire space with plants, but just a few key plants will do the trick. The plants that will thrive in office spaces the most are, Aloe, Spider Plants, Cactus, Succulents, Ivy, Rubber Plant and Peace Lily.
Motivational wall art
Credit: Oliver Bonas
Now if like us, you love a motivational quote (who doesn't?), then adding some feel good wall art throughout your office won't be a problem. These little nuggets of joy help to keep us all motivated from time to time when you need a little pick me up. Hang these in a place that can be easily seen from your desk, so you can have a little glance when you start to lag.