Look RICH for Le$$…
Are you always flicking through magazines, strolling through Bond Street and wondering how many Starbucks coffees you'd have to give up to afford those designer pieces? Instead of living off Cup A Soup for the foreseeable future, here a few tips and tricks for you to look good – without spending every penny you have.
1. Find the right fit
Know your body type and look for pieces that fit your body well. Shirts, trousers and co-ords all have that luxe appeal but the key is in the fit and tailoring. Zara is a great place for both men and women in search of key pieces to see you from work to the dance floor. If something is too long or too big, think about getting it tailored; a few YouTube tutorial videos could mean Saville Row could have some competition. You'll be FIT in no time. 
Topman Check Blazer, available here.
ASOS Skinny Fit Trousers, available here.
2. Focus on fabrics 
There's one rule we always follow: invest in quality over quantity. Cheaper materials may 'look' okay in photos but in practicality they are more likely to tear, won't wash properly and you'll probably throw them away after a couple of months. Instead, invest in linens, cottons, faux suede and leathers.
ASOS Linen-rich Dress, available here.
3. Up the accessories
Shoes, bags, jewellery, make-up – they can all elevate a look. You could be wearing the most basic outfit but a swipe of Ruby Woo and a chic scarf can really pull the outfit and make you 'pop'. The next time you're browsing through the bargain bin in your favourite high street store, stop and wonder if you're actually buying the item for the price or if you actually need it.
Pretty Little Thing Faux Snakeskin Boots, available here.
4. Slip on some sunnies
It's all in the mystery… the bigger the better. Go Jackie O with some flamboyant styles like these: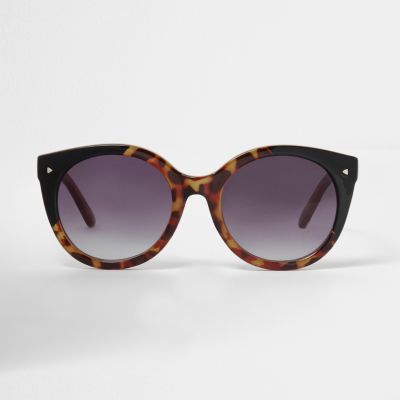 River Island Tortoiseshell Sunglasses, available here.
Quay Private Eyes Sunglasses, available here.
5. Simplicity rules
The key to looking 'rich' is simplicity and investing in quality pieces rather than fast fashion. Sure, we all may be tempted by those £2 T-shirts in Primark, but let's be real they come at a cost… and they don't last long. Find your style, remember less is more and always make sure your clothing is ironed and well pressed.
READ NEXT: The brands you'll be wearing in 2017